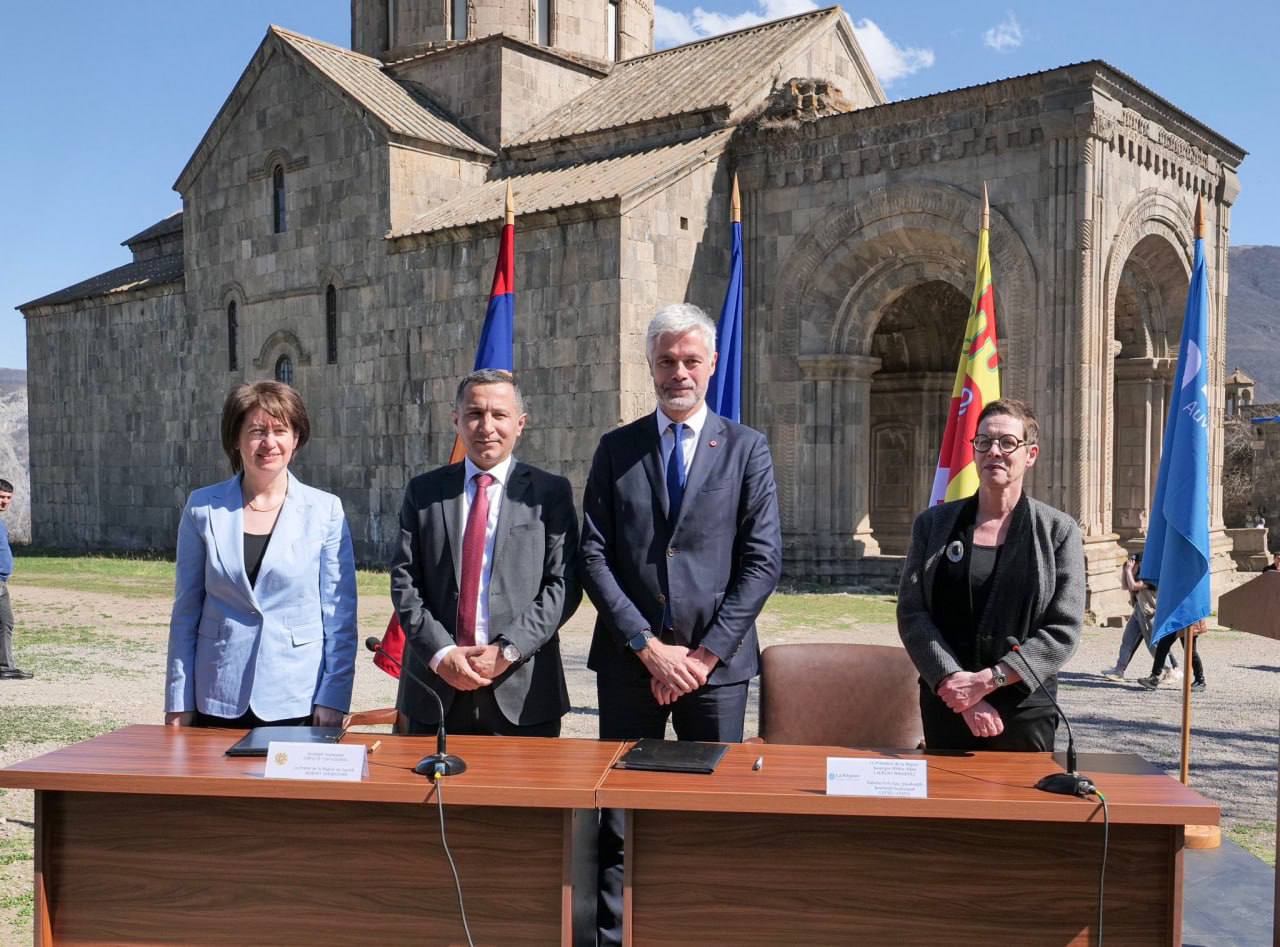 The fate of Artsakh (Nagorno Karabakh) fate is closely linked with the fate of the southern Armenian province of Syunik, while Syunik is key to Armenia's integrity, the President of the Regional Council of Auvergne-Rhône-Alpes Laurent Wauquiez said on March 31 in Yerevan.
"That's why we decided to have a cooperation agreement between our region and Syunik province. The agreement was signed in a very meaningful place, at the Tatev Monastery. Cooperation will relate to healthcare, agriculture and education. I've said that whoever attacks Syunik will be attacking my region," Wauquiez said, repeating his statement made at the signing ceremony earlier.
Wauquiez said that they want to organize a humanitarian convoy jointly with the organizations representing the Armenian community of France and try to deliver humanitarian aid to Artsakh.
"The convoy will be organized with our region's support and will bear our region's flag. It will approach the Lachin Corridor and we will demand passage to Artsakh. Either the convoy will pass and we will have a ray of hope, or the convoy will be barred and it will give us the opportunity to present this issue before international and European organizations, that once again the international law is being violated, and that actions must be taken," Wauquiez added.
He called on France and the international community to pay attention to Armenia and Artsakh amid threats from Azerbaijan, Armenpress reports.
"This isn't a dispute between two countries where borders aren't clarified and it could last forever, this is a total disregard for human rights that are protected under all international conventions, this is a desire to destroy a nation, its culture and history, its memory. This is certainly Armenia's struggle, Artsakh's struggle, but this is also a bigger struggle, this is a struggle for all the values that we bear. This is a struggle for civilization and democracy. Protecting you means protecting all these values," the French politician added.
Source: PanArmenian