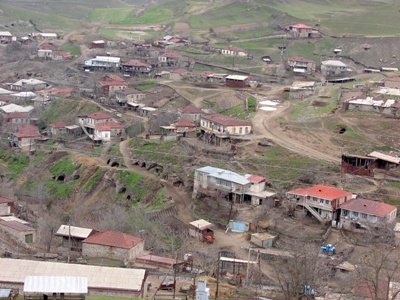 The Azerbaijani side has started building a trench at the highlands near Khnatsakh village in Syunik Province of Armenia. The head of Syunik's Tegh enlarged community, Nerses Shadunts, told about this.
"It is not that they [the Azerbaijani] came, they are building in our area. There was an arrangement between us that they would not stand there and we would not stand there either. But now that we're focusing on one point, they do so that they come, stand [there]. Besides, sometimes our shepherds graze the animals there, and they [the Azerbaijani] probably don't like that. They are standing in their area, have set up an observation post, are doing engineering work. And immediately in front of them, at a distance of 5-10 meters, our army puts up, close so that the village will not be visible.
What can we do? We have nothing in our hands. This is not a local government issue. (…). We are working with our army corps to alleviate the situation. The area of the village and all the adjacent heights are under the control of the adversary. No delimitation work has been done yet," said the head of Tegh community.
According to Shadunts, the Azerbaijanis in the area have become more aggressive. "They used to be friendly when they came. [But] gradually their moods are changing, they are becoming aggressive, they do not let the shepherds approach," he said.
According to the head of Tegh community, there are no problems for agricultural work in the region, except for Aravus vilage where the issue will also be resolved in 1-2 days. "Shepherds in our area are told, 'Do not go near!' They [the Azerbaijanis] try to create an atmosphere of fear among the shepherds at that outpost.
There ware no obstacles for the field work; our people are not cowards. In the winter, 4-5 months ago, they sold about 60 percent of the small cattle because we did not have winter pastures [any more]," said Nerses Shadunts, adding that there is currently no large-scale emigration from Syunik's border communities.
Source: news.am